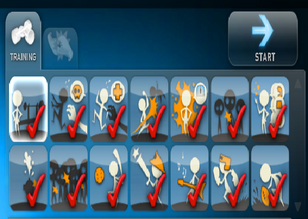 Single player mode currently consists of the tutorial of the game. Here, players may reach level 3 and get a piece of equipment for each class and an amount of Buster Points before playing the multiplayer gamemodes. Repeated playthrough of the tutorial missions is permitted, but only 1 EXP and 1 BP is rewarded upon repeated completion. Missions are currently not available, but will possibly come in a future update.
Class-specific tutorials do not require unlocking the required class. The character will automatically be switched to that class, and switched back to the previous loadout upon completing or failing the mission.
For yet unknown reasons, most of the tutorial missions were removed from the menu after Patch 3.5. Stats for these missions can still be viewed upon accessing Stats from the main menu.
Playing through the tutorial will award these items for the ingame classes: